At the occasion of la quinzaine numérique, Transcultures launched the spamm.be platform (in partnership with spamm.fr – Super Art Modern Museum), a web place dedicated for new art forms using the network as a creative material, accompanied by a critical corpus.
A first selection of introductory works (co-curation: systaime, digital artist, founder of spamm.fr )was proposed at the Maison du Peuple and the Maison des Cultures de Saint-Gilles. This didactic exhibition was framed by Jacques Urbanska (art-numeriques.info) with his matrix <iframes> (which allows, through a series of web "windows" to aggregate and present automatically Web content).
Transnumériques Awards 2013 – Focus « No screen – physical Performances & Installation »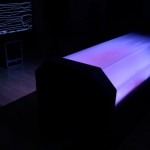 (in the framework of Transnomades and La Quinzaine Numérique of the Wallonia-Brussels Federation).
Dans le cadre des Transnomades à Bruxelles et de la Quinzaine Numérique de la Fédération Wallonie-Bruxelles.
The Awarded was :
Transnumériques Awards 2014 – Focus "connected installations" – art works to be broadcasted on the web and to be screened.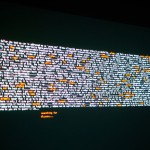 In the framework of festival VIA / Mons 2015
The Awarded was :
Transnumériques Awards 2015 – Focus "Special GIF"
In the framework of the Festival of digital cultures, Transnumeriques (an event of Mons2015, European Capital of Culture), Transcultures, Media and Sound Arts Centre, launches 3 calls for proposals to participate to the 2015 edition of its Transnumeriques Awards – Art(s) and Network(s).
For this edition, Transcultures will focus its awards on the GIF and its animated images, (usually in a loop). Back to the earlier Web, the GIFs were very simple. In a late 2000s, a new generation of artists has emerged and promoted GIFs as a work of art in itself. Lately, GIF works have bee part of multiple online exhibitions, but also, exhibitions in contemporary art galleries. Transcultures is especially interested by the relation the art of GIF generates as meeting points of a certain culture which it became, if not the emblem, in any case the exercise of style…
3 calls – 3 exhibitions … apply now